Improved learning technology, fast-paced changes in educational requirements, and a growing preference for convenient and more accessible learning have made online education the option of choice – especially with students of higher levels of learning (graduate, masters and doctoral studies).
Online learning by the numbers:
The global online learning market will grow to $325 billion by 2025, of which America's share could top $12.8 billion
An astounding number of corporations (98%) already offer, or plan to offer, their employees' access to online education
Virtual learning increases employee retention rates by 25% to 60%, and boosted corporate income for 42% of U.S. companies 
Not only are individuals, seeking to better their futures, investing in virtual learning, but corporations, in search of better ROI from corporate training, are making significant online learning investments too. 
What's driving online learning popularity
Historically, students who identified a learning institution of their choice, but could not attend there in-person (local commitments, prohibitive travel and living costs, visa challenges) opted for online learning. However, with the onset of COVID-19 restrictions, which have also crimped educational travel, online has become the medium of choice for most learners, especially for higher education. 
The convenience of online learning is yet another factor that makes learners gravitate to virtual learning instead of in-person studies. Instead of learning at a specific location, and at a given date or time, online learning is highly accessible. This on-demand and on-the-go accessibility endears online learning to many enrollees. 
Yet another factor that's making online learning popular is the growth in tech-savvy learners and evolving virtual learning technology. Evolutions, such as 5G, Zoom, Virtual Reality (VR) and simulated learning, make virtual learning the medium of preference over in-person learning.
What's driving business management studies
There's a growing emphasis on entrepreneurship to build a career or gain financial independence. One statistic indicates that, worldwide, there are 582 million entrepreneurs. In 2016, 25 million of those were Americans looking to succeed in the highly competitive global business world. Unfortunately, because of the lack of understanding of the competitive nature of being an entrepreneur, 22.5% of startups end up in failure.
Analysis of entrepreneurial profiles indicates that just 16% have a master's degree – a minimum education level where entrepreneurs master the complex issues of running a business successfully. As a result, today, more entrepreneurs want to learn how to manage their businesses more efficiently. And that's one compelling factor that's driving enrollment in business studies.
Choosing your online business learning school
Whether you are a student, looking to enroll in an online business program, or an investor looking to invest in an opportunity featuring distance learning; the diligence you exercise in the choices you make will determine success. 
So, what factors make a great online business school?
Reputation: National and international acclaim
Geography: Location with a political and social commitment to education
Depth and breadth of offerings: Wide array of choices in business studies
Quality of faculty: Renowned for their contribution to business education
Cost and rates: Competitively priced
Support: Extensive pre-enrollment, in-semester and alumni networks and support
Teamwork: Business is a "team sport", so look for faculty experienced at team building and group dynamics.
Choosing the right business school sets you up for a great career with maximum employment opportunities. Adding a winning education-centric selection to your portfolio sets you up for long-term outsized returns.
Tipping the scales
It would probably be disingenuous to say that all online learners, especially those looking to enroll in higher learning, such as studies at master's level, are in it purely for the love of knowledge. Most prospective Master's degree candidates, for instance, gravitate to specific institutions for reasons such as:
To acquire additional qualifications and certifications from institutions of higher repute
To assure themselves of a better employability profile. This typically occurs when prospective employers see diplomas, degrees and certifications from industry-recognized institutions on candidate resumes
To benefit from the knowledge and experience of world-class faculty and learning resources available at the selected institution
Some students gravitate to free Massive Open Online Courses (MOOCs) courses offered through a range of platforms. However, while delivering value in their own right, "free" MOOC learning is no substitute for formal courses and certification received through globally accredited institutions. One popular field of study has been the online Masters in Management program offered by Australia's UNSW Online, and delivered by its Australian Graduate School of Management (AGSM). 
There are several critical factors that tip the scales in preference for the program over others available online. Factors that drive online Master's level students to opt for the UNSW program include the fact that the program scores high for both employability (top-3 in Australia and 27th globally) and overall quality (2nd in Australia and among top-40 globally). On the world stage, the 2021 QS Online rankings rate the AGSM program #4 among the best online MBAs across the globe – which is no mean feat given the tough competition for online learning excellence.
It's no wonder then, that because of its high level of commitment to online learning, the island continent nation offers a prime opportunity for investors to participate in the online education industry.
Online education and Ed-Tech in Australia
The Australian Stock Exchange (ASX) lists 14 publicly traded companies that are either directly or indirectly education-focused. Combined, retail and institutional investors have grown the market cap of these entities to nearly AU$8.billion – which is sizable given the overall depth of Australia's stock market.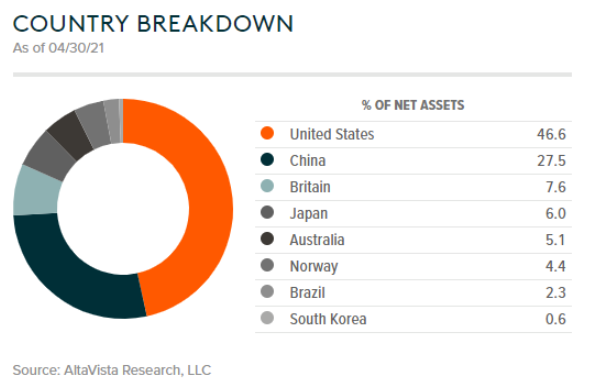 Interestingly, buying shares of individual companies isn't the only way to leverage Australia's Ed-Tech sector. Many investment companies, such as Global X, have created convenient one-stop ETFs that focus specifically on global education-themed corporations, including those in Australia. The Global X Education ETF is a relatively (2020) new education-focused ETF that holds a basket of 34 such stocks in the online learning, higher education and professional learning sectors. Geographically speaking, while the U.S. and China make up the bulk of their holdings, this ETF also has slightly over 5% weightage in Australian companies.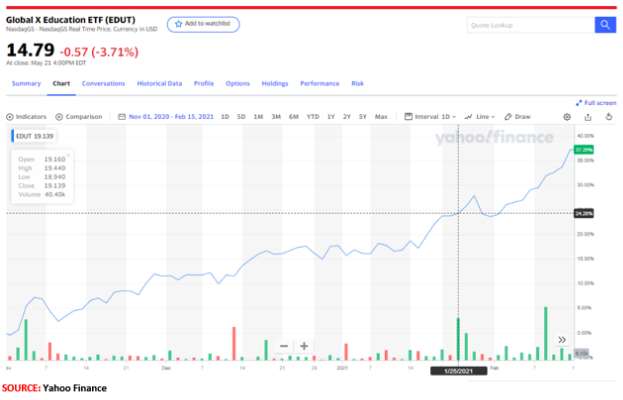 During the height of the pandemic, EDUT proved that it can hold its own to deliver outsized returns to online education-centric portfolios. More recently, the fund has delivered a 5.70% Return on Equity (ROE) to its holders. This has helped grow the fund's Net Asset Value (NAV) by 8.68% since inception.
© 2021 Benzinga.com. Benzinga does not provide investment advice. All rights reserved.