Meghan Markle and Prince Harry's Archewell organization has signed up to a new coalition that aims to provide child care support for America's workforce.
It was announced on Wednesday that Archewell has signed on as a member of the National Business Coalition for Child Care which has been set up by Reshma Saujani, founder and CEO of Marshall Plan for Moms with the aim to expand child care benefit options for workers.
As part of Wednesday's announcement, Meghan called for support for all working families in regards to access to childcare, stating that it was a responsibility for the business sector to address.
"Families everywhere, and especially working moms, are asked to shoulder so much," she said.
"This has only been heightened by the pandemic, with increased caregiving responsibilities, rising prices, and economic uncertainty," she said. "As it's been said many times, it takes a village to raise a child. Today, we're sending a message that childcare isn't just a community imperative—it's a business imperative. Creating a stronger workforce starts with meeting the needs of families."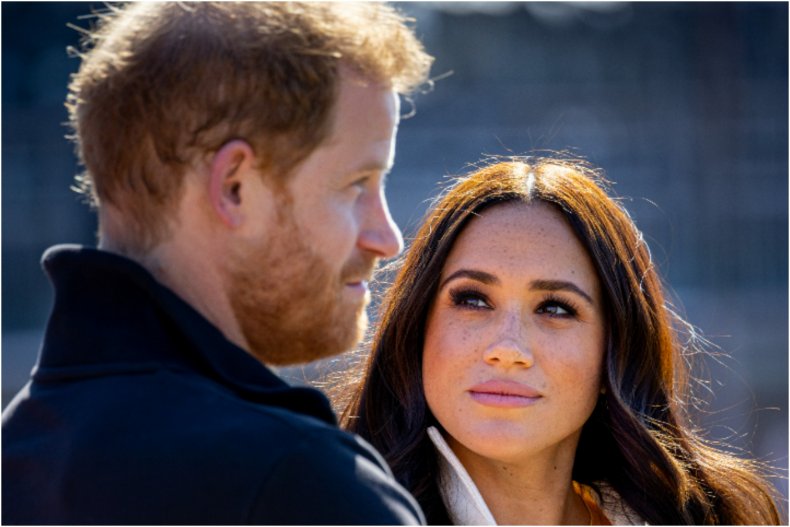 The announcement of the coalition follows the publication of a report compiled by Marshall Plan for Moms in partnership with McKinsey & Company looking at how current childcare procedures and benefits affect America's workforce and families.
The report surveyed over 1,000 parents of children aged 0-5 and found that 83 percent of women who responded said that childcare benefits were an important factor in whether they choose to stay with their current employer or look for another job.
The report also found that childcare considerations negatively impact women more than men.
Seventy-five percent of women survey respondents said that they consider themselves primary caregivers at home and 45 percent of women who left their jobs cited childcare as one of the reasons why. This is compared to 14 percent of male respondents who gave the same answer.
One in 11 respondents said that they had access to childcare subsidies or that their employers provided on-site childcare services.
"The input from working parents is clear: employer child care supports can improve the recruitment, retention, productivity, and happiness of employees," Saujani said. "This is not only crucial for the health and wellbeing of individual American families but also central to American economic competitiveness."
Alongside Harry and Meghan's Archewell organization, which comprises the Archewell Foundation as well as the audio and production arms of their company, businesses Athletes Unlimited, Care.com, Fast Retailing, Gibson Dunn, Patagonia, and Synchrony have also signed up to be part of the National Business Coalition for Child Care.
As members of the coalition, each of the organizations pledge to pursue solutions that provide childcare support for employees, take action and pool knowledge by sharing policies and best practice models within the coalition as well as becoming vocal advocates for equitable access to childcare and normalizing the challenges faced by working parents.
This is not the first time that Meghan has become a vocal advocate for parents within the workforce. In 2021, she wrote a letter to Senate Majority Leader Chuck Schumer and House Speaker Nancy Pelosi, urging them to support paid parental leave in the U.S.
"I'm not an elected official, and I'm not a politician," she wrote.
"I am, like many, an engaged citizen and a parent. And because you and your congressional colleagues have a role in shaping family outcomes for generations to come, that's why I'm writing to you at this deeply important time—as a mom—to advocate for paid leave."
"The working mom or parent is facing the conflict of being present or being paid. The sacrifice of either comes at a great cost," she continued."No family should be faced with these decisions. No family should have to choose between earning a living and having the freedom to take care of their child."
Meghan and Harry have two children, Archie, 3, and Lilibet, 11 months.