[ad_1]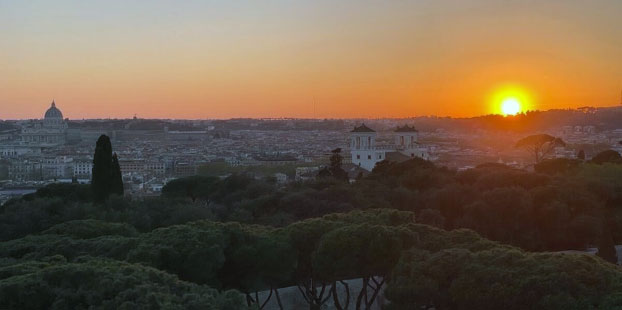 Dear Tauck Family of Friends,
I value "things" that are timeless, whether they are beliefs that shape how we approach life or everyday elements we don't think about very often.  A "view" is one of those elements that can be timeless. Growing up, my family had a cottage that faced directly west across Canandaigua Lake in the Finger Lakes. This orientation brought truly special sunsets almost every night. They never fail to stir us, even to this day. The view was the same hundreds of years ago and will be the same well into the future.
I thought of how timeless a view may be when in Rome recently with my family. Our Tauck Hotel, the Splendide, sits atop a hill and its public spaces were well designed to afford beautiful views across Rome. The above photo was our view with the dome of St Peter's Basilica in the back left. This view has been savored by residents and visitors for hundreds of years. Covid did not change this view. And Covid did not change the timeless treasures and charms of Rome. The same energy was present, with groups of people smiling and laughing. Couples holding hands. Restaurants and city squares abuzz with conversation. Museums and art galleries filled with people, curious to learn. It was a wonderful mix of history and the present day.
Our world is resuming normal life and travel at a quickening pace, where we discover those charms, and feel the timeless elements of life all around us. They do truly stimulate our sense of sound, sight, taste and more. This is why travel is so valued by us all. We become energized by these experiences. We learn. We develop a thirst for greater knowledge. We laugh and bond with those we travel with, recognizing that the memories we build together are more valuable than any material possessions.
Tauck restarted in scale last August, and operated in 36 countries by year-end. This experience prepared us well for the breadth and depth of our planned operations this Spring. Already, year-to-date, we have had the pleasure of guiding more guests around our beautiful world than we carried all of last year. The reception from our local partners and friends globally has been heart-warming. They are so genuinely thankful and excited to be welcoming our guests back. We all feel their extra special care. And I'm pleased to share that guest satisfaction levels are in line with 2019, and May was better than April and June is better than May. There remains staffing challenges in spots, but we are all working hard to overcome them. My father-in-law, Arthur Tauck, famously penned a letter to guests back in 1991 in which he advised people to "expect the unexpected" while traveling. His wisdom still resonates today.
June 12th was a notable day in our journey over these past several years, when the US government removed the pre-flight testing requirement before returning home from abroad. Most countries had already removed entry requirements. For example, Tauck's most popular program in the world, The Blue Danube river cruise, which visits Prague, Budapest and Vienna, had requirements for five different countries in May. Now, all requirements have been removed. These changes are bringing tangible relief to us all.
Price Certainty, Sustained Quality & Value
Our philosophy has always been to provide a well-designed experience at a very good value. We anchor on quality and all-inclusive experiences. This philosophy has worked well as it has enabled us to build a loyal following of patrons who are the foundation of our longevity. A valuable element of our business approach is price certainty, and this has special relevance now. Unlike many other companies, we never change prices daily or weekly. And we do not use gimmicks or promotions. With prices for many goods and services increasing meaningfully all around us, Tauck prices for 2022 and 2023 are set. You do not have to worry that prices will increase before you travel, which we hope will bring you peace of mind.
One last word about departures and dates: space for 2022 is more limited at this point but we do have opportunities across the world for summer and fall travel. For up-to-date availability for European tours and cruises, visit tauck.com/Europe22.  And, we expect 2023 journeys will be one-third sold by the end of this month, so if a particular tour or cruise, a date, or a particular cabin type on our cruises is important to you, it is best to book soon.
Wherever you are this summer, all of us at Tauck wish you all the best. We have a summer filled with family gatherings, weddings, and trips to Europe and the American West. And fortunately too, many nights looking west across our lake at those timeless sunsets.
Warm Regards,
Daniel W. Mahar, CEO
[ad_2]

Source link