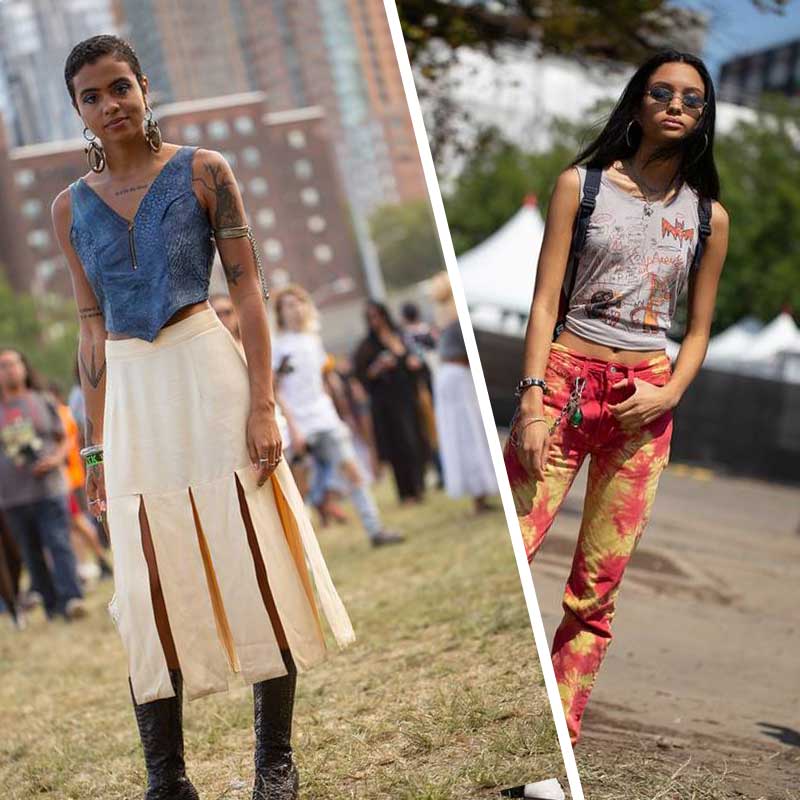 Afropunk is a movement that takes the original punk principles and filtered them through a black cultural lens. While both styles rebel against mainstream society, Afropunk's rebellion also includes a message about the current status of black people in relation to white society. This is expressed through the art, accessories, clothing, and tattoos associated with the movement. By supporting afro-punk, individuals are expressing their own rebellion as well as their support for a collective cause.
AfroPunk culture is all about expressing the creativity and culture of Africans through various forms of art. This can be done through visual art, dance, literature, film, and fashion. Black artists, activists, and musicians from around the world contribute to the culture. They take the punk culture and combine it with the culture of tribesmen and women from Africa, who they consider the original punks.
Africans have made a place for themselves within punk culture, which is largely dominated by white people. They have their own festivals, music concerts, and expressions of style in art and fashion. This is thanks to their natural talent and hard work.
Afro-punk is a cultural movement that has its origins in the late 1970s, shortly after the punk subculture started becoming popular. Punk is a continuation of the political and stylistic shifts in music and fashion that occurred in the 1960s. Punk style is a statement of defiance and has a cult following all around the world. Afro-punk culture embraces the basic tenet of the punk movement – nonconformity.
Over the years Afro-punk has turned into a whole annual celebration of life and multiple cultures. Afropunk started out as a reaction to the 2003 movie Afro-Punk, made by James Spooner. The first celebration occurred in Brooklyn in 2005, and it gradually developed into an event where people could get together, listen to great music, and show off their amazing fashion sense.
The style seen at Afropunk is unique compared to other festivals. It's edgy, creative, and most importantly, it represents culture and identity. It breaks barriers, blurs gender lines, and removes restrictions on who can wear what. It's a liberation for various marginalized identities.
Afropunk fashion has become synonymous with bold and creative fashion choices, with attendees dressing to impress in a range of eye-catching styles. If you're looking to make a statement at Afropunk, go all out with your outfit – think golden halo crowns, angel wings, and full-body jewellery. With so many people strutting their stuff, it's guaranteed to be a fashion feast for the eyes.
Afro-punk fashion can be best described as an unapologetic return to natural roots, with an expression through R&B and hip-hop music. The movement has however been met with some political, racial, or cultural resistance, but this has only made the group stronger. Afro-punk style is more than just a fashion style, it's a way of life for a group of people who have much more to offer than what is currently being seen or heard.
Here are 10 great outfit ideas of Afro-punk style:
1. AfroPunk Fashion: Bright & Sunny Colours
This look is perfect for a festival. The colours are bold and beautiful, and they really make the model's features pop. She's matched her hair, dress, and earrings perfectly, which gives her a polished look. The jewellery is a traditional cultural amulet that speaks about history. To achieve a similar look, choose bold makeup that will compliment your outfit. She also has multiple henna tattoos which add even more cultural significance to the outfit.
2. AfroPunk Style: The Celebrity Look
This Afropunk look is all about being exciting, VIP and super sexy. The glasses are the main focus point, so make sure they're colourful and interesting. To achieve this look you need bright lipstick, face glitter or face stick-on gems. You can keep your hair natural but add a hair accessory. Big, bold piercings are a plus. Wear something bright, with patterns that represent your culture. And when it comes to accessories – the more the better.
3. Afro Punk: Colourful Hair
At any festival or carnival, a bright blue hairstyle with flowers is always a great look. This combined with colourful clothes, which are also a symbol of deep culture, is a win-win move. Most Afropunk looks involve bright makeup, and big and bright jewellery is also a must.
4. Afro-Punk: Cultural Patterns
If you want to achieve that goddess look for Afropunk, here are some helpful tips! Go for golden details and a black long cover. And don't forget a symbolic cultural crown to really top off the goddess look. When it comes to jewellery, go big and bold. And finally, carry yourself with elegance. If you feel like a goddess, this look is definitely for you! After all, Afropunk is all about expressing yourself through your outfits and looks.
5. AfroPunk: Big Chunky Jewelry
Gold has always been a symbol of wealth and nobility in Africa. Gold was and still is quite abundant in West Africa. Because of this, it was/is often used in trade and as currency. Rap and hip hop have had a big impact on the jewellery industry over the years. They've helped promote its beauty, value and prestige. The term "bling bling" is derived from the culture and was added to the Oxford dictionary in 2003. So don't be afraid to go bold with your jewellery choices, the bigger the better.
6. AfroPunk: Statement Hair
Afro hair is a huge part of different cultures. The way it is styled, the colours used, and the accessories all play a role in representing where someone comes from. If you want to make a statement with your hair, find a style you like and that represents you. Embrace it and be proud of it!
7. AfroPunk: Cultural Tattoos
African tribal tattoos are world-renowned for their arresting designs and powerful symbolism. Commonly conveying messages of strength, perseverance, and connection to the natural world, these tattoos are often large-scale and eye-catching. However, it's important to remember that each African tribe has its own distinct tattooing traditions and meanings behind the designs. If you have any tattoos, go ahead and show them off. We love to see it.
8. AfroPunk: Simplistic Colourful Look
When it comes to Afropunk style, the more colourful the better! This includes everything from your hair and clothes to your glasses, beard, jewellery, and even your underwear. So make sure to bring your favourite colours to the party. Colourful looks are also a representation of the LGBTQ+ community, which is closely related to Afropunk style with its uniqueness and expression.
9. AfroPunk: Earthy Tones
If you prefer more muted colours, khaki is a great option. The model in the photo is wearing a graphic dress with images of African tribal members. This is a great way to appreciate the culture and combine it with gold jewellery and accessories in earthy tones.
10. AfroPunk: Natural Tones
There are certain colours that can really help bring out your best features and make you look even more beautiful. If you want to try this natural look, stick to clothes in shades of beige, brown, and copper. You can add some colour to your makeup, plus some face glitter or gems. Keep your hair looking as natural as possible for that casual vibe. And don't forget the jewellery!
Which outfit did you like the most? And how would you dress if you were going to Afropunk?